Create Your Own Oracle Deck -- A Crash Course in Storytelling and Creative Magic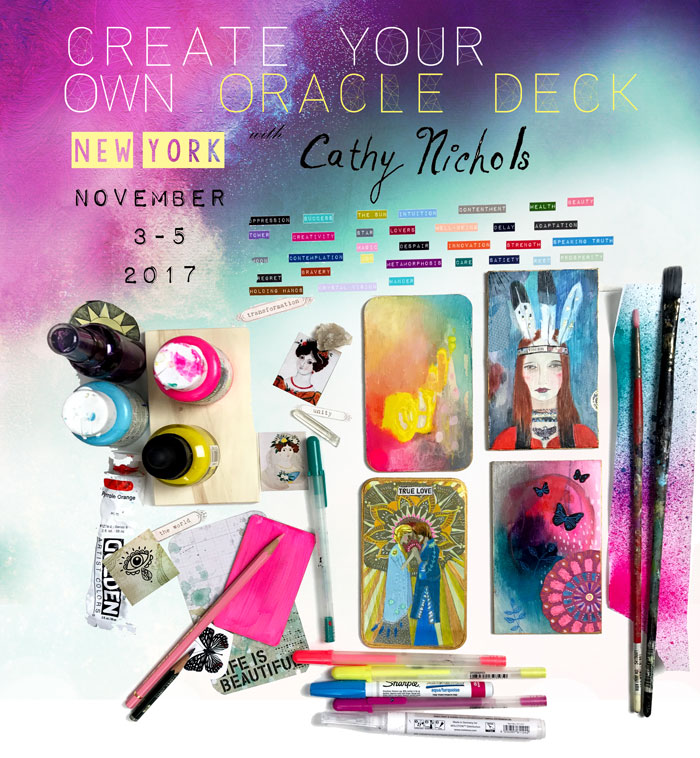 Get ready for a weekend of pure, joyous mixed-media exploration as Cathy leads you through the process of manifesting your own unique 25- card oracle deck. In our time together, you will reconnect with the expressive, intuitive self and the magic you carry within. We will use paint, color, chance, synchronicity, storytelling, and the wisdom of ancient divination to guide our journey.
Our gathering of creative energy will be a safe space for artists of all abilities. You will create an original deck based on your own level of experience and infused with your artistic voice.
Cathy will share many tips to create your cards including:
Loosening up with chance
Conquering the blank canvas
Finding a focal image
Using color for expression, balance and composition
Working with collage, image transfer & other mixed media techniques
Using symbols and storytelling
Hand-lettering & bordering
Inviting synchronicity
*PLUS bonus techniques for creating your own interpretation booklet & bold, abstract collage papers! AND tips on how to get your deck published!
Your Tuition and Supply Fee Will Include:
Divine Spark Soiree - The evening of Friday, November 3rd from 6-8 PM will be a special, welcome reception filled with oracle readings, oracle deck eye candy, friendship, wine and treats.
2 Full Days in the studio from 9-6 both Saturday and Sunday
Studio snacks and beverages
Included Supplies:
25 custom made 3x5 inch wood panels
A goody bag of special collage papers
Sheets of orale words in colorful colors
Access to other special supplies in the studio like glues, transfer paper, stamps, punches and assorted tools.
A mini Soulshine welcome bag with love from Dvora
Supplies you should bring:
Your favorite paint brushes and acrylic paints, at least 1 paint pen (black, white or gray Montana Marker or Sharpie), at least 1 water soluble pencil and/or crayon (caran d'ache is a wonderful brand). At least 1 spray bottle of "Dylusions" ink spray and at least 1 Artists Acrylic ink.
Any favorite ephemera
Any small pencil drawings or your working sketchbook if you have one (optional)
Cathy is a professional artist living in Asheville, NC. She has created several oracle decks including her popular Story Cards, and she is the author of the book Storytelling Art Studio: Visual Expressions of Character, Mood and Theme Using Mixed Media. She is thrilled to be sharing her love of creativity, painting and divination in this workshop!